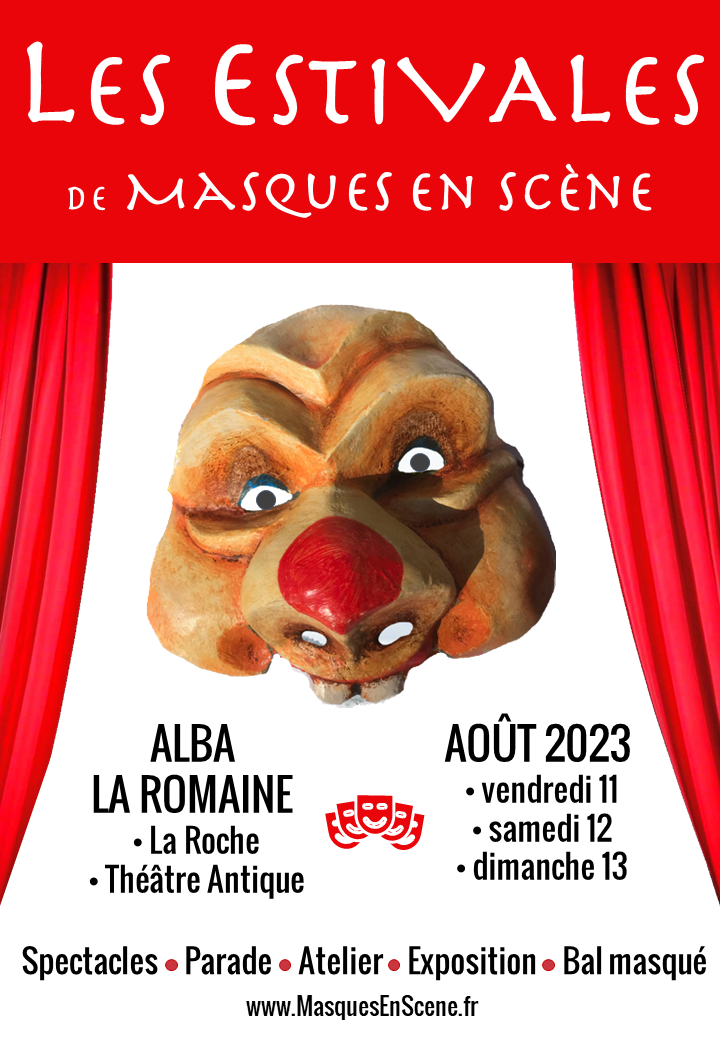 Finally a celebration of masks that has a face
Why Les Estivales by Masques en Scène?
In theater, the mask is not just a beautiful object, it reveals all the humanity of the actor. 
The art of the theatrical mask is a truly universal language, it has the power to make the spectator laugh, cry and charm in turn. It is accessible to everyone across cultures, social classes or ages. This is why the mask is favored in the popular arts of commedia dell'arte as well as in the Balinese ceremonial arts. Masques en scène aims to create a meeting place in Alba la Romaine for mask arts from all over the world.
The masked parade, the exhibition, the masked ball, the improv, the play by Masques en scene and the mask decoration workshop:
Pass for all plays in Alba la Romaine ->

reservation

35 €
2-day workshop around theatre with masks by Xènos -> reservation
"Frimousse contre vents et galères" by Cie. Piloucha (from 5 years)  -> reservation

regular adult ticket 10 €
reduced fee 5 € for children aged 6 – 16 years
free entrance for children aged 0 to 5 years
"Un dernier miracle" by Cie. Théâtre Itinérant La Passerelle -> reservation

regular adult ticket 10 €
reduced fee 5 € for children aged 6 – 16 years
free entrance for children aged 0 to 5 years
"Frasques et Frusques" by Cie. Les Passeurs -> reservation

regular adult ticket 10 €
reduced fee 5 € for children aged 6 – 16 years
free entrance for children aged 0 to 5 years
"Le Cercle de Craie Cocassien" by Mirandolina et Cie -> reservation
regular adult ticket 10 €
reduced fee 5 € for children aged 6 – 16 years
free entrance for children aged 0 to 5 years
"Mangeront-ils ?" by Cie. Les Passeurs -> reservation
regular adult ticket 10 €
reduced fee 5 € for children aged 6 – 16 years
free entrance for children aged 0 to 5 years
A big thanks to everyone that contributed financially to our festival: